Kali ni nak tepek testimoni pasal siapa2 yang ada sakit belakang..PB ni dia ada pengiktirafan daripada pakar tulang belakang dari US, Canada dimana PB dapat mencegah tulang belakang daripada bongkok akibat postur badan yang tidak betul....Semalam ada terbaca paper dekat rumah my mom..paper mingguan cerita pasal sakit belakang sampai nak operation. Uih..siap ada operation lagi untuk avoid back pain ye..ngeeeriiinyaa...Believe me siapa yang pakai PB akan automatic sakit belakang hilang..Truly,Madly Deeply Doo heheh..
Betull and one of the testimoni is myself..memang sakit belakang hilang dan sengal2 kaki pun dah tak adee..Ok below another testimoni yang berkaitan dengan tulang temulang kita..happy reading...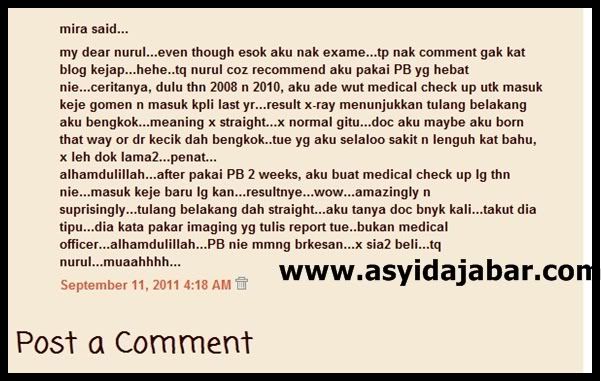 Seri sebelum ni ada crack bone and was in MC for 8 months. Tapi lepas pakai PB dah tak ada rasa sakit and can work again.
"Grab Your Premium Beautiful Set and Be PB Agent Now"
Phone Number:
012-2057182
Email:
premiumbeautiful2011@gmail.com